Samsung's true wireless devices are on sale at half price
Thanks to this sale, Samsung Galaxy Buds 2 are truly cheap active noise canceling wireless headphones today. Indeed, we can currently find them for just €68, while they retailed for €149 when they were released.
The latest wireless earbuds from Samsung are the Samsung Galaxy Buds 2 Pro. This is a high-end product that currently sells for around €200. If you don't have the budget for that, we recommend the true wireless ones that were released a while back, namely the Samsung Galaxy Buds 2. They are obviously less efficient, but above all, they are more affordable as they are offered at half the price. .at the time of sale.
Samsung Galaxy Buds 2 key elements
Lightweight and comfortable wireless headphones
Noise reduction and transparency mode
Compatible with fast charging: 100% in 38 minutes
Instead of starting at €149, the Samsung Galaxy Buds 2 are now on sale at Cdiscount for €68.
---
If the offer mentioned in this article is no longer available, take a look below to find other promotions for Samsung Galaxy Buds 2. The table is updated automatically.
Where to buy

Samsung Galaxy Buds 2 at the best price?
Great sound in a compact size
Samsung Galaxy Buds 2 offer a round format that doesn't fall out of the ears and silicone tips to promote good support. Therefore, for intraauriculars placed in the ear canal, they are very comfortable and can be easily forgotten during several hours of listening, especially thanks to their lightness (only 6.3 g per earpiece). The touch controls on the surface of the headphones are also quite responsive and, above all, complete.
As for the sound part, they use almost the same two speaker drivers as the first Buds Pro, where the tweeter focuses on the highs and mids while focusing on the bass. Therefore, sometimes we don't have a single speaker responsible for producing two sounds at opposite frequencies and simultaneously. The sound produced here then has a great richness and a lot of detail. We also note the presence of active noise reduction, which is quite effective for mid-range headphones. Transparency mode is also part of it with several intensity levels: low, medium or high.
Effective fast charging
The battery life of the Galaxy Buds 2 is about 5 hours for the earbuds, and with the case it can be more than 20 hours. We especially appreciate its very fast charging via USB-C, which allows the headphones as well as the case to go from 0 to 100% in just 38 minutes. However, don't forget to take your smartphone power supply as it is not included in the box. Also note that they are compatible with wireless charging, which of course is less efficient, but still practical if you have an induction base.
Read our full Samsung Galaxy Buds 2 review for more.
8 /10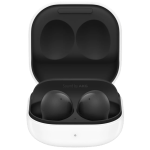 Winter sales: the best deals selected by Frandroid's editorial staff
The Winter Sales officially started in France on Wednesday 11th January 2023 at 8am and will end at midnight on Tuesday 7th February. At the moment, several merchants have drawn their best offers. Here are the best deals from our live sales.
Our picks by product category
Our picks by merchants
Our picks by brands
To make sure you don't miss out on any great deals from this event, there are a few reflexes you should take right now so you don't miss out on any of our recommended deals:
Follow us on our twitter account @FrandroidPromos dedicated only to good deals (don't forget to activate the call to receive real-time notifications)
Download our Frandroid app (available on iOS and Android) to enable notifications from the "Good Deals" category and get new 2023 Winter Sale items in real-time.
Subscribe to our Good Deals newsletter (multiple emails per day, 1-click unsubscribe, distribution to third parties) to make sure you get the deals firsthand:
---
We invite you to follow us Download our Android and iOS app. You can read our articles, files and watch our latest YouTube videos.