Social media barometer 2023: analysis, tips and benchmarks
In the 2023 Social Media Barometer, social listening and social media management specialist Brandwatch provides a comprehensive analysis of the social media landscape. On the agenda: The latest social media trends, benchmarks, insights and tips to feed your 2023 strategy.
Always very precise and very complete, the barometer analyzes the main brands of 15 different sectors of activity: air transport, alcohol and alcoholic beverages, automobile… A reference document to be aware of current or future trends.
Discover the 2023 social media barometer
An overview of social media trends
The first part of the barometer is devoted to the analysis of the main social media trends:
Brands are turning to niche platforms : faced with a fragmented audience that is gradually moving away from mainstream social media, brands are opting for smaller social platforms to stand out.
New functions for social networks: In order to stimulate user engagement and try to re-engage them, larger social platforms are innovating by offering more features.
Influencer marketing becomes important: consumers are becoming less and less influenced by advertising and are consciously and actively avoiding it. As a result, brands are turning to influencer marketing to connect more effectively with their audience.
TikTok, an essential marketing tool: The still-equally popular social network, with over a billion users, is now incorporating brand marketing strategies to reach a wider audience.
The video format appeals to: The rise of TikTok is a testament to this, as video remains the most engaging content format on social media to date and continues to grow in popularity.
Consumers looking for authenticity: ways of consumption are changing and consumers expect brands to align more closely with their values.
Best times to interact with your audience
What is the best day for communication on social networks according to your sector of activity? In its barometer, Brandwatch analyzed more than 526 million conversations on social media between January 1 and June 30, 2022. Here are the main ideas:
On average, Tuesdays and Thursdays are the days when the brand is mentioned the most.
Automotive, hospitality and financial services brands were most marked on Wednesday and Thursday.
Pharmaceutical and telecom brands had the highest volume of talk on Tuesday and Thursday.
Check out the 2023 social media barometer
Different interactions between brands and consumers
Depending on the sector of activity, some brands use social networks to share content with their consumers or, conversely, to optimize customer service.
Here again, Brandwatch detailed the analysis by measuring the types of interactions between brands and consumers. The result: social network users mainly use notes (66%), replies (21%) and retweets (5%).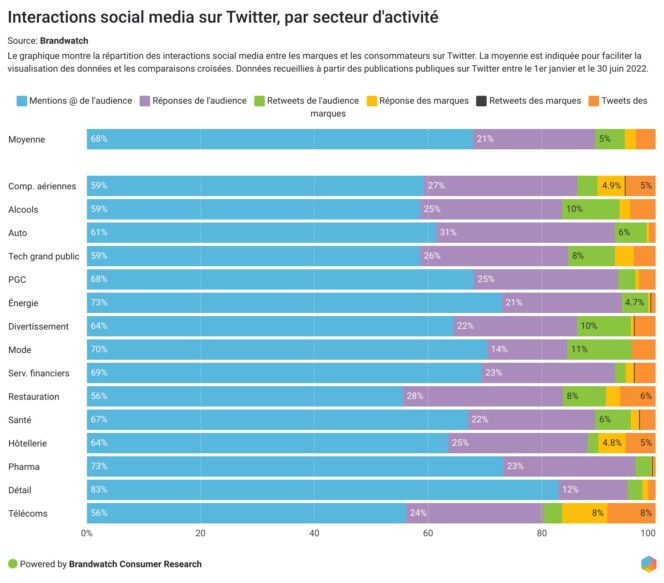 Emotions shared by consumers
As part of your social media strategy, it's important to understand the emotions your consumers express on social media. Brandwatch presents an analysis of consumer emotions in social networks by activity sector.
On average, anger accounts for only 25% of brand mentions, fear 5%, disgust 9%, and joy 47%.
Not surprisingly, sentiment varies across industries. For example, the aviation sector generates more than 40% of users' anger. These reactions, which are mainly related to flight cancellations and do not depend on communication teams, expose brands negatively on social networks.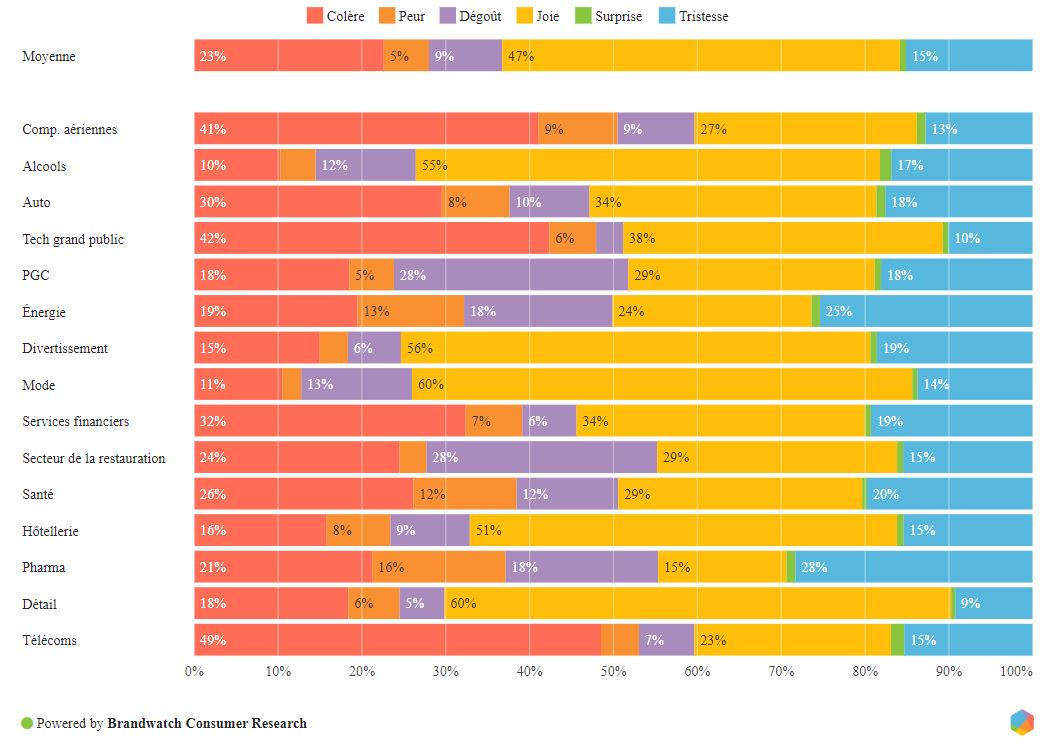 Want more tips for a successful social media strategy? Download the full Brandwatch barometer for free by clicking the link below.
Download the 2023 social media barometer