Henri Cartier-Bresson with close friends – Blind Magazine
This is a story of friendship. From this, between Henri Cartier-Bresson and the French artist Sam Szafran. Friendship in pictures shown by the Pierre Gianadda foundation in Martigny, Switzerland, a hundred years of the 226 photographs Cartier-Bresson gave him. "strong friend"signed and shows mutual love and admiration.
After the photographer's death in 2004, the Szafran family decided to offer the set to Léonard Gianadda, a friend of the two artists and founder of the foundation, who gave this beautiful tribute to their friendship here.
"Sam, close friend"
We know that Cartier-Bresson's magnificent photographs presented on the walls of the foundation near the French border are an intimate order.
Underneath each framed print is always "HCB," "Henri Cartier, etc." or simply has a small word signed "Henry". All are addressed "For my friend Sam," "Sam, a close friend," or "Sam and Lilette, yours truly." Often sweet words, sometimes jokes, "Eat the banana and think about it. L'ami Henri," captioned a photo of a banana harvest in Cote d'Ivoire taken in "1930 or 31."
"Sam was Henry's art teacher for several years. In turn, Henry offered Sam photos, lots of photos. Thus, the most important collection of photographs in the personal possession of Henri Cartier-Bresson was organized. Léonard Gianadda, the founder of the foundation, which realizes this unique collection, says.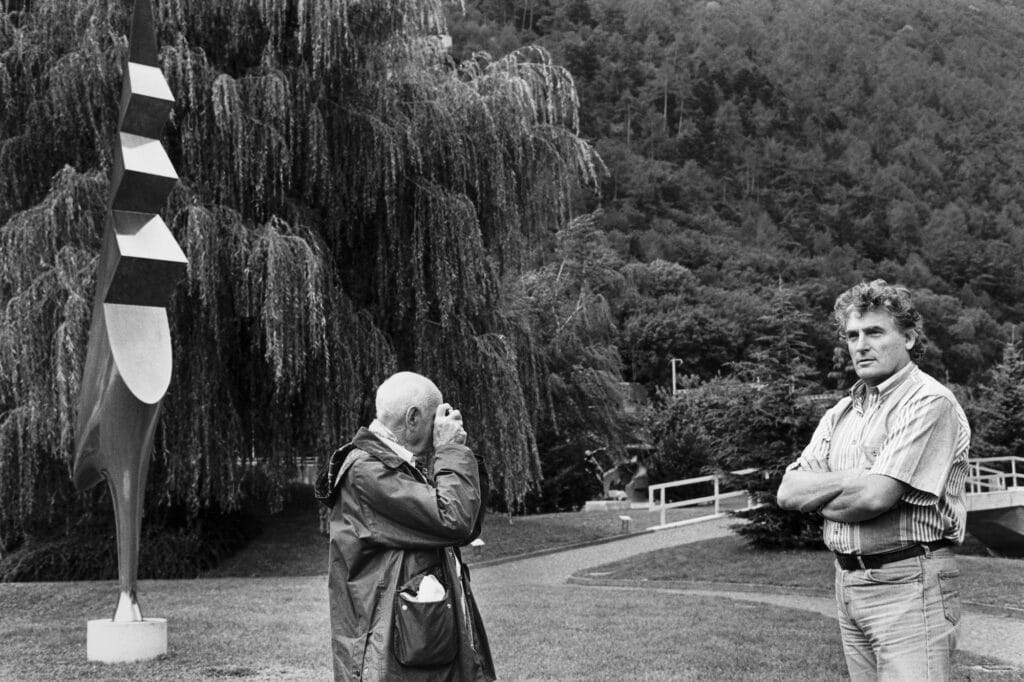 In 1989, Henri Cartier-Bresson exhibited fifty photographs and as many paintings at the Pierre Gianadda Foundation. Here, too, a friendship arose between the patron and the artist, who would become close friends with Szafran. When Cartier-Bresson died on August 3, 2004, he decided to donate his photo collection to the foundation.
He admitted to Leonard Gianadda in 2005: "I was so sad when I came back from Henry's funeral! He showed me an extraordinary, loyal friendship for thirty-five years, and I just wanted it not to be broken when we died. So I have found that the best way to keep this collection intact is to have it in the Pierre Gianadda Foundation. »
Along these walls, we see not only HCB's photography and genius, but also glimpses of his peregrinations in the 1930s, images of his trips to India or Mexico, like the epistolary correspondence of two friends, touching him. common love between the two artists.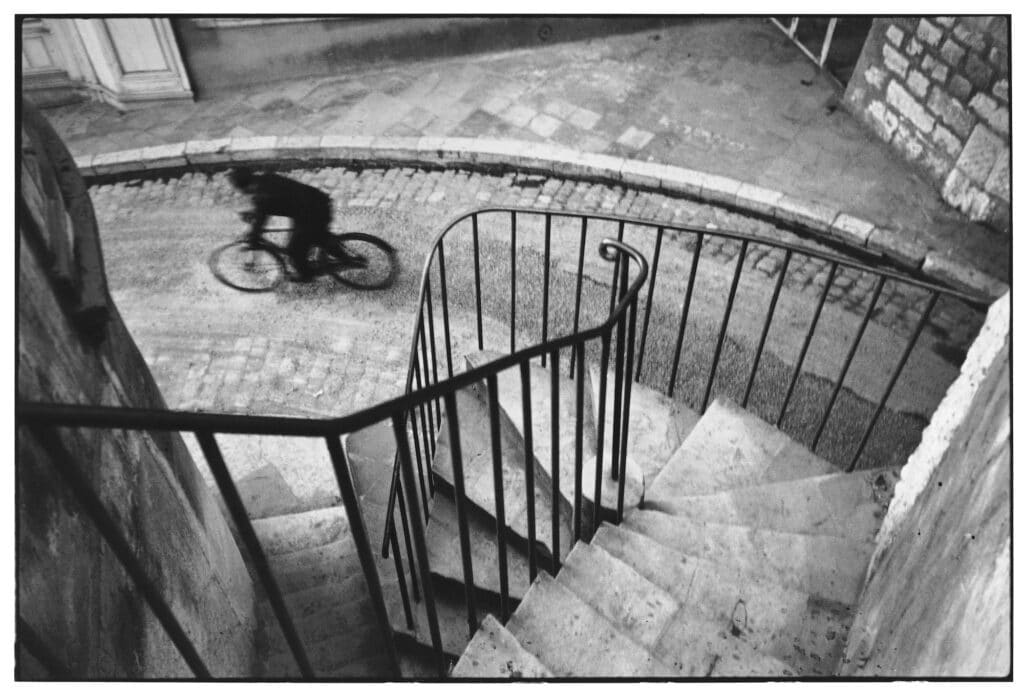 "Picasso, I painted him very badly"
Cartier-Bresson met the young Shafran in 1972 during an exhibition dedicated to modern art in Paris. Organized in collaboration with the Cartier-Bresson Foundation, the exhibition also reminds us that the photographer was a friend and portraitist of many artists.
In front of a magnificent print, we walk alongside Alberto Giacometti, slightly out of focus, cigarette in mouth, one of his works in hand. Here he is, like these sculptures, one step ahead, moved, fascinating.
"Giacometti is one of the most intelligent and clear-headed people I know, completely honest about himself and serious about his work, ruthless where you are most in trouble. […] He told me so many good things about photography and the attitude you have to have."confided to photographer Sam Szafran.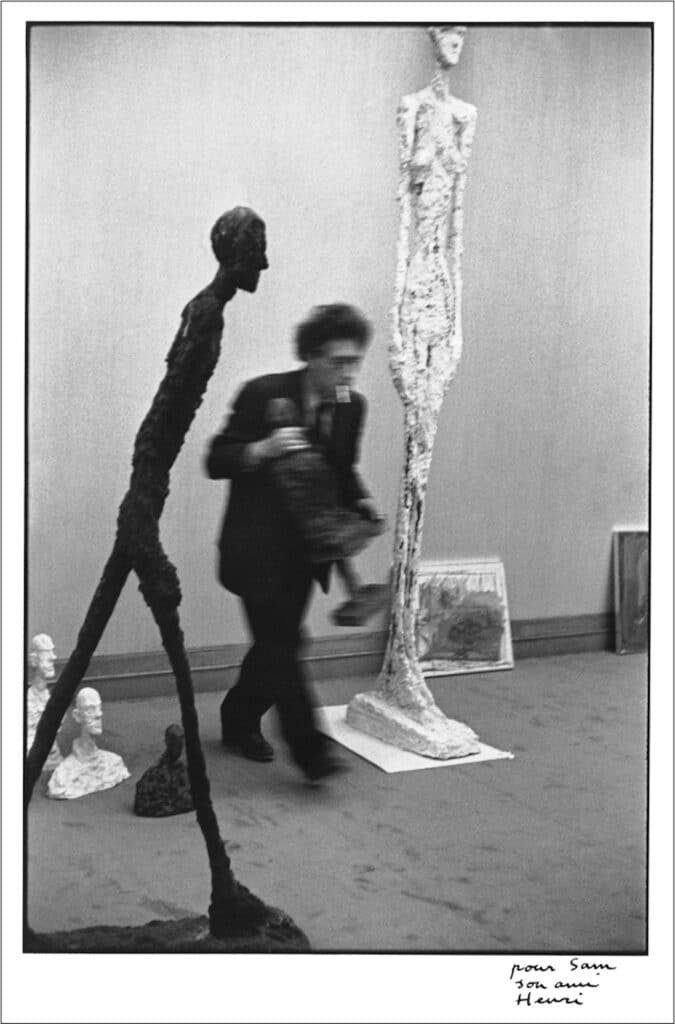 Jean Renoir, Georges Braque, Jeanne Moreau, Edith Piaf… Henri Cartier-Bresson paints many portraits, but most of them are friends, because the exercise is complicated for the man of the decisive moment. "The most difficult thing for me is to draw a portrait. It's very difficult. It's a question mark put to someone." admits the photographer who likes to capture these men and women in their studio and close to them.
And so we find this great stolen picture of Giacometti, on the rue Alésia in Paris, a perpetual smoker, his jacket pulled down to keep out the rain, Didot going to the tobacconist. Szafran's favorite.
Matisse and the dove are also held firmly in his left hand, drawing the bird with his right. "Picasso, I painted him very badly. Matisse, yes. Picasso is a genius, but for me the great artist is Matisse. I knew him very well and loved him very much. She made a beautiful cover for my photobook [Images à la sauvette]»Cartier-Bresson said during an interview in 1989.
The photographer thought of the portrait with respect for others and himself. "My way is based on respect, which is reality: no noise, no personal pomp, being as invisible as possible, not 'preparing' anything, not 'setting up' anything, just being there, coming very slowly. , on tiptoe, so as not to disturb the water…"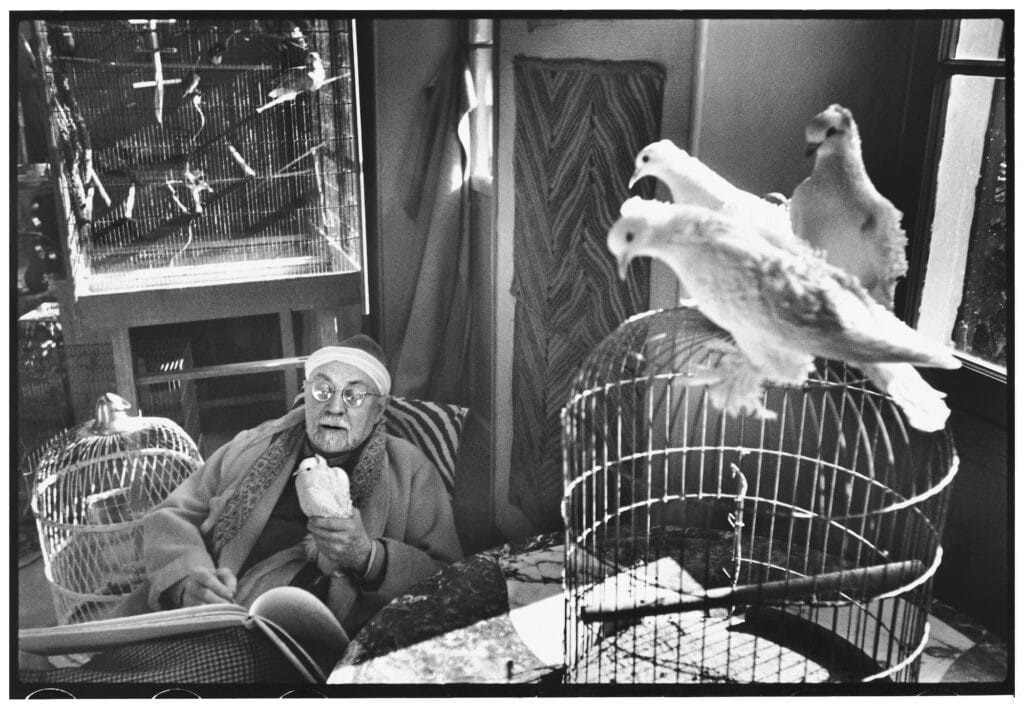 "we are all in the picture" with Henri Cartier-Bresson
The element of surprise never leaves the eye of the photographer, "Taking candid photos like a criminal on the streets"accompanied by his Leica, "My notebook, fast, discreet, not bigger than my hand".
Cartier-Bresson made photography his way of life, capturing fleeting moments of existence as two hooded voyeurs caught on camera in Brussels red-handed. Artist and sculptor Eduardo Arroyo describes the photo as follows:
"The photographer surprised the two voyeurs. One, in the background, looks through a hole made in a canvas stretched over stakes, a spectacle whose details we do not know. Another character who could be, why not, Hercule Poirot turns his gaze into a lens. The man in the hat looks at reality through a hole. The other is looking at the camera. We also become voyeurs by looking at the photo. Whether we like it or not, we become part of photography. We are all in the picture. »
Enriched with quotations, this exceptional set offers a more sensitive and moving approach to Cartier-Bresson's work. "Of all the means of expression, photography is the only one that defines the exact moment. We play with things that disappear, and when they disappear, they cannot be brought back to life., he said. Years pass, but friendship remains. Forever.
Henri Cartier-Bresson and Pierre Gianadda Foundationuntil February 21, Pierre Gianadda Foundation, Rue du Forum 59, 1920 Martigny (Switzerland).