learn about the latest industry trends, salaries, technologies and the most popular programming languages
JetBrains recently announced the results of its Developer Ecosystem Survey. As always, its annual report features the latest trends in programming languages, technologies, tools and frameworks, as well as the lifestyles and habits of developers.
This is the sixth iteration of the survey, which is more comprehensive every year. The 2022 report contains nearly 500 charts organized into 31 sections, each of which highlights the most noteworthy facts about the topic. JetBrains has added new sections including data science, remote development, health and mental health.
This year's report is based on responses from 29,000 developers out of more than 38,000 respondents. Before we get into the details, here are some findings from the latest report:
JavaScript remains the most popular programming language and has yet to overtake TypeScript, which has nearly tripled in usage over the past 6 years.
According to the developers, the most promising technologies are: artificial intelligence / machine learning, Rust, JavaScript, Go, Kotlin and Blockchain.
The programming languages ​​most developers consider adopting are: Go, Rust, Kotlin, TypeScript, and Python.
Programming languages ​​that have fallen out of favor are: PHP, Ruby, Objective-C, and Scala.
Working from home remains an option for most developers, with 76% preferring to work mostly from home.
50% of developers do remote collaborative programming.
69% of salaried developers say they are satisfied with their work, but 57% say they are satisfied with their pay. The most important aspect of job satisfaction is a sense of accomplishment.
73% of developers have experienced burnout at some point in their careers.
The most common way to find a job is through a recommendation from a friend. 30% of survey participants say that they found a job this way.
When it comes to pets, dogs are slightly more popular than cats among developers.
Some key findings from this survey are presented in more detail below.
The most used programming languages ​​in the last 12 months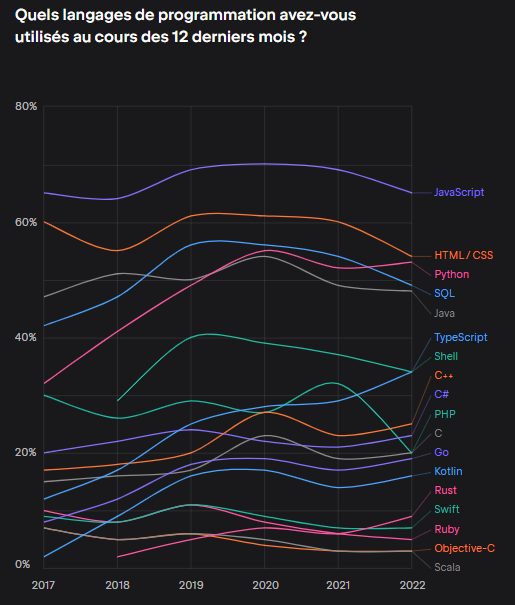 Among the programming languages ​​showing a decline in popularity are PHP, Ruby, Objective-C, and Scala, among others.
JavaScript, the most popular programming language, is used in some way by 65% ​​of developers. TypeScript's score has almost tripled in 6 years, from 12% in 2017 to 34% in 2022, but will it eventually replace JavaScript? Although JavaScript is rapidly maturing, its use continues. According to the survey, 92% of TypeScript developers use JavaScript, and 40% list it as one of their primary languages.
Python has grown in popularity and is the second most used language after JavaScript, excluding the HTML/CSS duo with a 53% share. More than half of the world's developers use Python.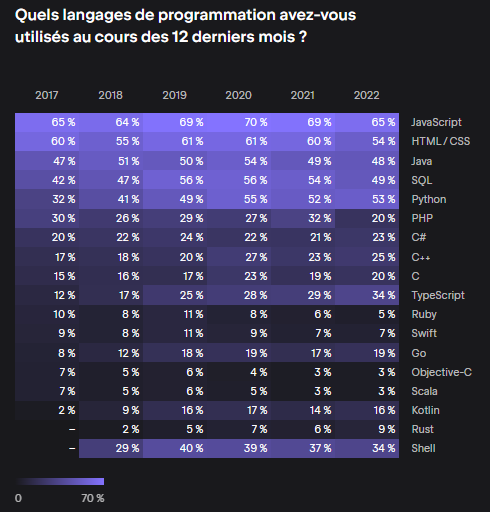 Programming languages ​​that developers consider to be primary languages
Here, respondents were asked what their main programming languages ​​were and they could not choose more than 3 languages.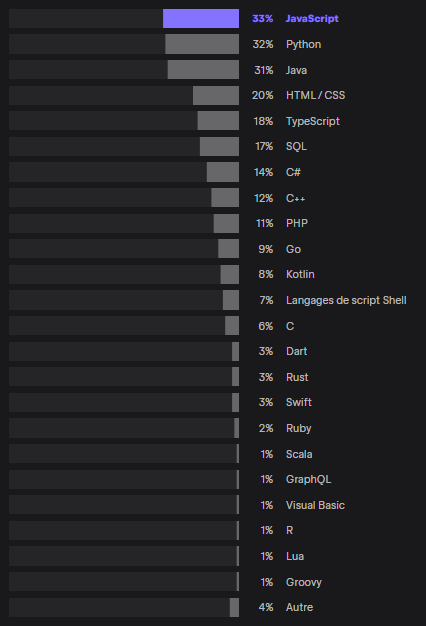 Python is also growing as a mainstream programming language, catching up to JavaScript. One percentage point now separates them, with Python at 32% versus 33% for JavaScript.
favorite programming languages
The five most popular programming languages ​​are Python, Java, JavaScript, C#, and Kotlin. But if we rank these languages ​​by the number of people using them, the top 5 are Kotlin, C#, Python, Rust, and Java.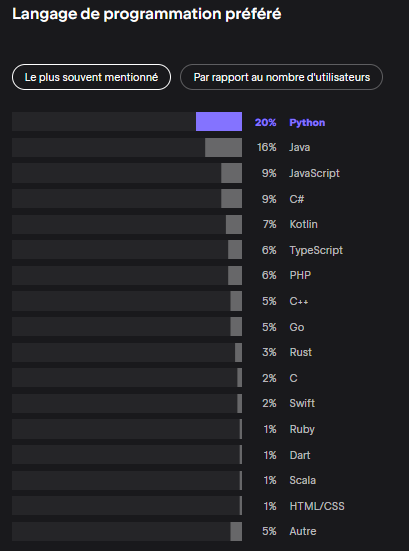 The least popular programming languages
The five least popular programming languages ​​are JavaScript, Java, PHP, C, and C++.
JavaScript and Java are highly controversial as they top the list of both favorite and least favorite languages.
But if we rate the least popular languages ​​by the number of people who use them, we are the absolute champions with Perl at 96%, Visual Basic at 77%, Delphi at 60% and C at 51%.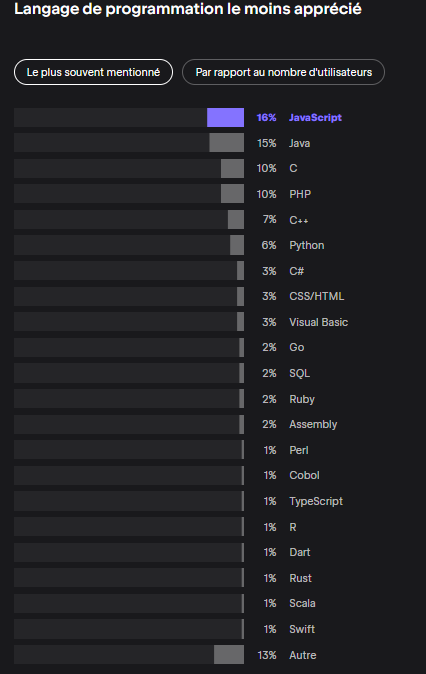 Types of activities in which the respondents are involved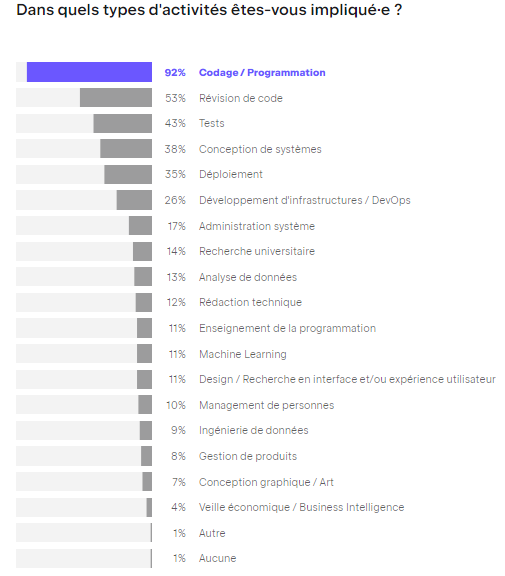 Types of developed software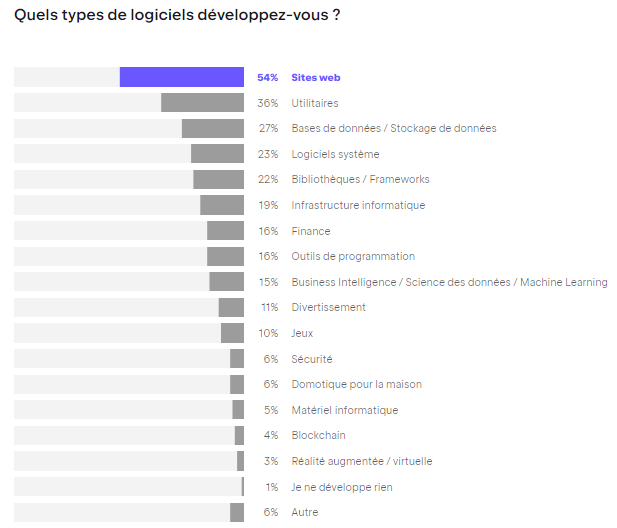 It should be noted here that the youngest participants of the survey mainly work in the development of games and entertainment programs.
Technology Respondents Find Promising
Note that this is an open question to the participants. Therefore, no specific technology is mentioned.
However, most developers point to Artificial Intelligence/Machine Learning as the most promising technology. In addition to several programming languages, respondents also mentioned Blockchain, WebAssembly, Flutter, augmented/virtual reality, and cloud technologies.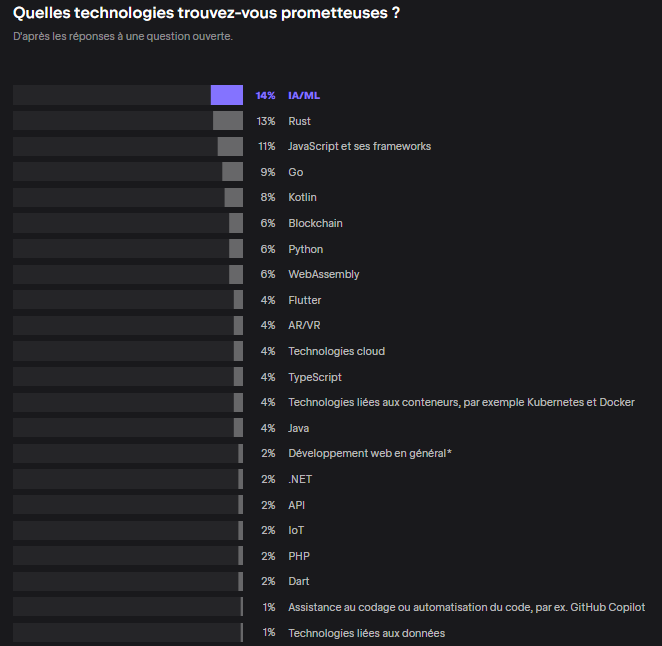 Level of satisfaction with salaries
The survey shows that 57% of developers are satisfied with their salaries at various levels.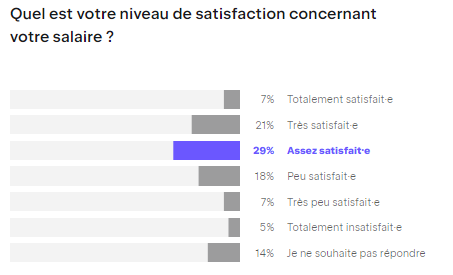 Median value of net annual salary (after tax) in USD excluding bonuses and bonuses by region
The USA is the first with 102 thousand dollars, and France is far behind with 27 thousand dollars.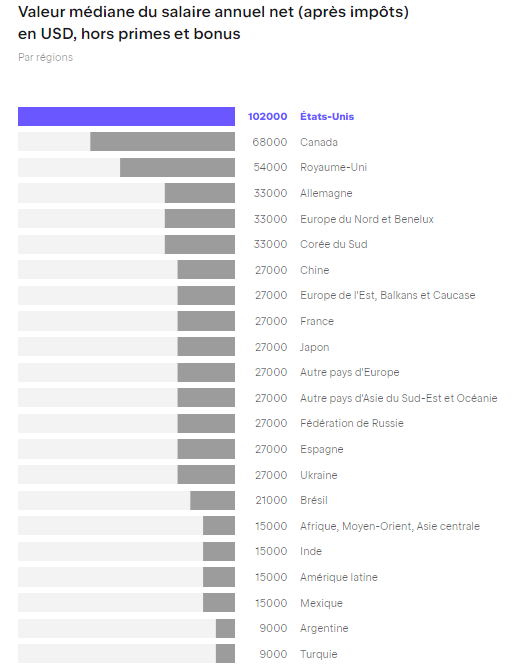 The investigation report is full of many other interesting facts which cannot be mentioned here. So check it out for a more in-depth look at the 2022 Developer Ecosystem Survey results.

The State of the Developer Ecosystem in 2022