Princess Sirivannavari turns 36 years old
Princess Sirivannavari Nariratana Rajakanya turns 36 on January 8, 2023, a symbolic and significant age in Thailand. On this occasion, the Royal Household Office shared new official photos of the youngest daughter of King Rama X. The publication of photos of the princess is criticized, and the royal family is going through very difficult times. The king's eldest daughter has been between life and death for several weeks.
Also Read: Thai King's Eldest Daughter Fainted: What is the real health status of Princess Bajrakitiyabha?
On her 36th birthday, Princess Sirivannavari is entitled to a lavish photo shoot at the Ayutthaya Royal Summer Palace.
Princess Bajrakitiyabha, 44, who was the victim of an accident during training with army dogs on December 14, 2022, is still in hospital. The Royal House of Thailand is refusing to reveal the real situation regarding the eldest daughter of King Maha Vajiralongkorn, also known as King Rama X. According to some experts, the prince has actually already passed away, but the royal family is postponing this meeting. announced his death for several reasons.
On January 8, 2023, as if everything was perfectly normal for the royal family, the Royal Household shared some beautiful photos of Princess Sirivannavari on her 36th birthday. Born on January 8, 1987, the prince is from the second marriage of the future king of Thailand, then still the crown prince, to actress Yuvadhida Polpraserth. At the time of his birth, Maha Vajiralongkorn was still married to his first wife, his cousin and the mother of his eldest daughter, Princess Bajrakitiyabha.
Maha Vajiralongkorn divorced his first wife and married actress Yuvadhida Polpraserth in 1994, with whom he already had four sons and a daughter, Princess Sirivannavari. In 1996, Yuvadhida Polpraserth fled to Great Britain with her five children. Maha Vajiralongkorn will be able to heal his daughter. He abandoned his first four sons and his second wife, who later moved to the United States with their children.
Also Read: Barbie Pink, Wedge Heels & Van Cleef & Arpels Brooch at Elie Saab Paris Show, Thai King's Daughter
The eldest daughter and potential heir of the Thai king is still between death and death
After divorcing his second wife, Maha Vajiralongkorn married commoner Srirasmi Suwadee in February 2001. Their marriage was kept a secret for several years and became public in 2005 when Princess Dipangkorn gave birth to a boy named Rasmijoti. In 2014, after a family scandal, Srirasmi Suwadee was removed from her position, accepted a divorce, accepted that her son was taken from her, and she now lives alone and under supervision. Prince Dipangkorn Rasmijoti, the only boy legitimized by the dynasty, lives in Bavaria, where he is educated in a special institution, suffering from significant autism-type disorders.
Maha Vajiralongkorn ascended the throne when his father died in October 2016? Then, spending most of his time in Germany, he will have to wait until 2019 to organize his coronation ceremony. The day before her coronation, she marries her favorite so that she will be known as Queen Suthida during highly coded protocol ceremonies. Shortly after this marriage, the king legalized his relationship with his mistress, a noble royal wife, who served a year in prison before being rehabilitated.
Also Read: Princesses Alexandra of Hanover and Sirivannavari of Thailand at the Giambattista Valli fashion show in Paris
King Rama X had one daughter, Princess Bajrakitiyabha, with his first wife, four sons, and one daughter with his second wife, but today only his daughter, Princess Sirivannavari, is legitimized. He then had a son with his third wife, Prince Dipangkorn Rasmijoti, who was rejected. Princess Sirivannavari, who studied fashion in Europe and has her own clothing brand, is also working for the crown. On January 8, which is the symbolic age of the prince, he turns 36 years old. Birthdays are not tens like in the West, but round numbers with multiples of 12. The year 36 marks the completion of the 3rd cycle of 12.
To mark this momentous anniversary, Prince Sirivannavari presents new lavish official photos taken at Bang Pa-In Royal Palace, known as the royal summer palace of Ayutthaya's ancient kings. King Maha Vajiralongkorn's reign has been highly controversial as he showed little interest in his role as ruler for several years after his father's death. Even before his accession, some believed that his sister, Princess Sirindhorn, was destined for the throne.
His harem in Germany, his strange behavior, his deliberately concealed health problems, and his controversial marriages are rarely discussed openly in Thailand due to the long prison sentences given to those convicted of lèse-majesté. The unpopularity of the sovereign is taboo, but real. Her only male heir has serious behavioral problems. His eldest daughter, Princess Bajrakitiyabha, has achieved an impeccable performance so far and has held high diplomatic posts, notably as Thailand's ambassador to Austria. In recent months, he had been improving his military training. For some, he seemed like the ideal candidate to succeed his father.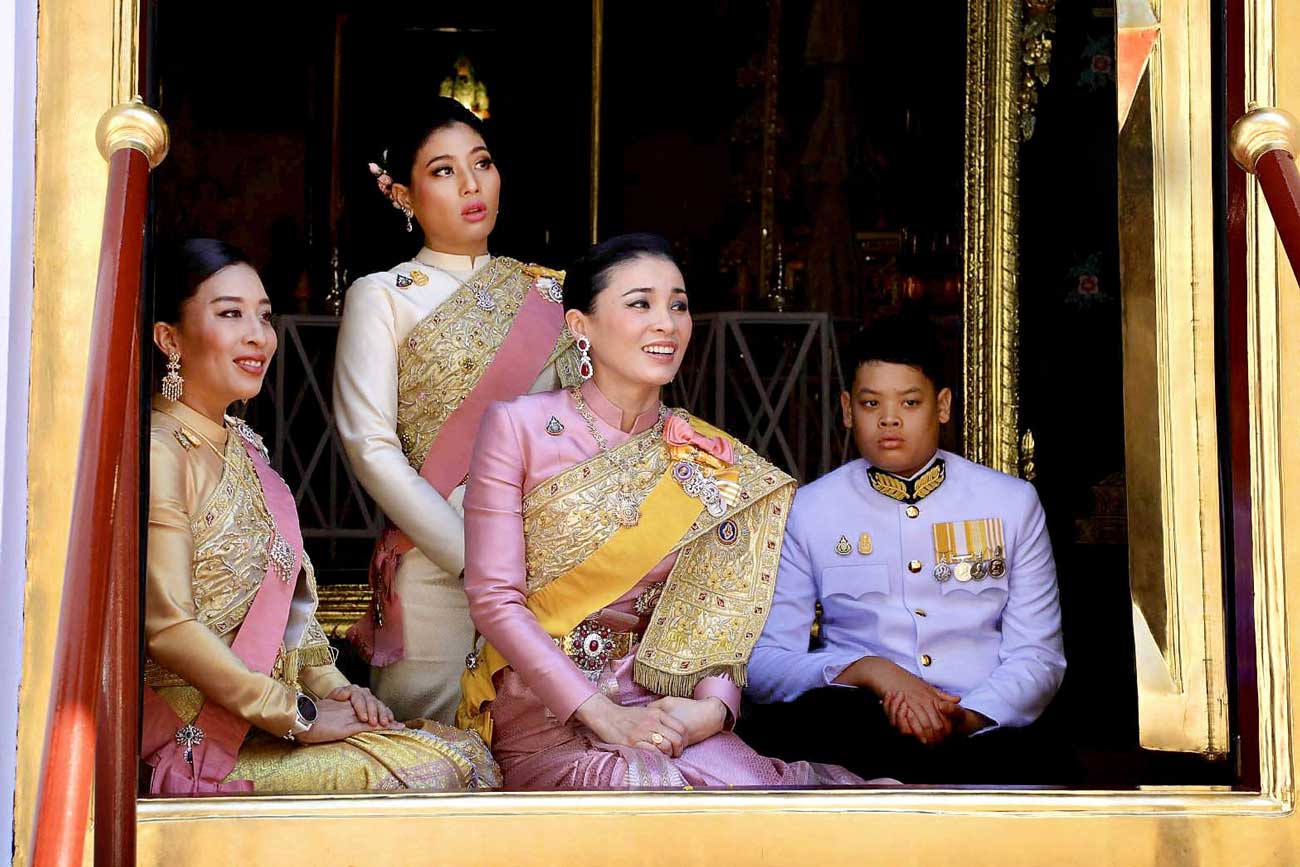 Princess Bajrakitiyabha, now in limbo, may never wake up. He would even be brain dead in reality. The Royal House is a master of disinformation. Announcing his death during the festive season was out of the question. Extremely superstitious, the Thai king has many whims and organizes many elements of his life based on predictions and omens. The announcement of the prince's death can be delayed as long as necessary.
Can Prince Sirivannavari succeed his father? For experts, it would be more likely that young Dipangkor would be the heir now, despite his behavioral problems. If necessary, a system of council of regents can be created around him. Although Princess Sirivannavari is an active member of the royal family, she also appears to be very westernized.