The main figures of social networks in Tunisia 2023
Tunisie Tribune (main figures of social networks) – Social media statistics help social media marketers decide on the best strategy for their brand. In this blog, we explore Tunisia's social media statistics for 2023 and how it can impact your brand's marketing strategy.
The total number of social media users will increase by more than 10% to 424 million users in 2022. There are 4.6 billion social media users worldwide. This number is 58% of the world population. Although it should be noted that "users" do not necessarily mean unique individuals.
Like every year, we take a look at the best social media and digital marketing metrics you need to know for 2023. A collection of essential diagrams for understanding social media. We collected a lot of data about the use of social networks in Tunisia and around the world in 2023, not only for all Internet users, but also for young users aged 13-24 and 25-34. You can get acquainted with last year's (2022) social media usage figures here.
This article presents all the uses and statistics of Social Networks in Tunisia in 2023.
Number of social networks to be known in Tunisia 2023
In the first quarter of 2022, Facebook removed 1.6 billion fake accounts. Fake accounts are considered accounts created to impersonate non-human persons or with malicious intent.
The number of users decreased for the first time with Tunisia 8,642,700 users in January 2022 and 8,032,900 users in January 2023it means that 72.73% Tunisians actively use social networks every month. The most popular platforms for Tunisians are Facebook and Instagram.
The number of social network users has increased in Tunisia decreases of 609,800 users Between 2022 and 2023.
8,032,900 people in Tunisia use Facebook, Instagram, TikTok or Linkedin every month. Meeting of social networks allows to apply to 72.73% of the population.
Close 7 out of 10 Tunisians access social networks every monththis is incredible!
Number of Facebook users in Tunisia 2023
We start this research with the star of social networks, the giant Facebook. It is still number one with over 2.93 billion monthly users as of October 2022.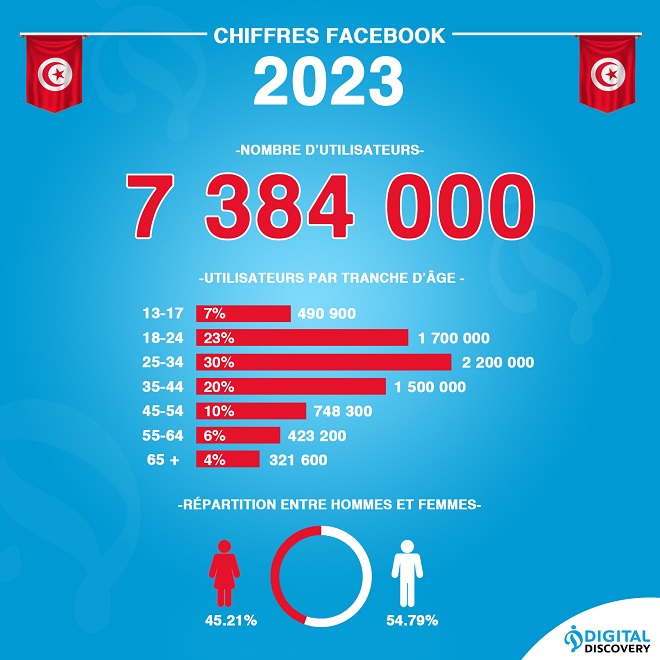 The majority of Facebook users are between the ages of 18 and 44. The latter make up more than 73% of Tunisians on Facebook and are mainly active consumers of various types of products and services. 54.8% of Facebook users are men and 45.2% are women.
Facebook account 7,384,000 users Tunisians in 2023.
Messenger account 5,572,700 users Tunisians in 2023
In 2022Facebook account 7,737,000 Users in Tunisiai.e. loss 353,000 Facebook accounts or "fake profiles".
In the We Social and Hootsuite report, they note: "These adjustments may reflect the cleanup of duplicate and 'Fake' accounts, and thus a reduction in reported reach does not necessarily mean that marketers are reaching fewer 'real' people in their target audiences.".
General statistics on Facebook in 2023
In October 2023, Facebook had 2.93 billion monthly active users.
Facebook is the 3rd most visited website in the world. It is right behind Google and YouTube.
Among users aged 16-64, 14.6% of users say Facebook is their favorite social media platform after WhatsApp.
The app is the 5th most downloaded free app in the app store.
Facebook Messenger is the fourth most downloaded app in the App Store.
Android users spend 19.7 hours per month on Facebook.
In 2023, Facebook turns 19 years old.
Peak traffic is on Wednesday and Thursday afternoons.
71% of Facebook users are on the platform to connect with friends and family
Facebook Stories has 300 million daily active users
Number of Instagram users in Tunisia 2023
Instagram has grown steadily since its launch in 2010 despite stiff competition from Facebook and TikTok. With 2,945,300 users in Tunisia, it will be the 2nd most used social network in 2023.
Since the COVID-19 pandemic, more and more people are working from home, using Instagram and TikTok to fill their breaks. Instagram's numbers in Tunisia for 2023 break records. This is generally the case in Europe and around the world.
Of the 2,945,300 Instagram accounts in Tunisia, Instagram is slightly favored by women. The largest age range includes users aged 18/34, followed by users aged 13-17.