Photos taken by Roomba vacuum cleaners have leaked online
⇧ [VIDÉO] You may also like this partner content (post ad)
We mentioned yesterday that we are constantly under surveillance through various channels. One of these channels is based on smart connected objects that have taken over domestic life. iRobot's autonomous vacuum cleaners are designed to collect nothing but dust from your home. And again: several pictures taken with development versions of the new model of the vacuum cleaner have ended up on the Internet, which raises many questions about the way iRobot handles its data.
The images in question were taken with development versions of iRobot's Roomba J7 robot vacuum. They were sent to Scale AI, a startup that hires workers around the world to label audio, photo and video data, which is then used to train the artificial intelligence embedded in the company's robots. In 2020, some of these freelancers shared several photos in private online groups (Facebook, Discord, and others).
Although these data retention and access controls are generally tighter, journalists MIT Technology Review was able to obtain about 15 screenshots of these private photos posted on restricted social media groups. While most show mundane domestic scenes taken from the floor, some are quite intimate (one still shows a woman sitting on a toilet…). We also see a child lying on the floor, staring at a vacuum cleaner, and many details (furniture, furnishings, decor, etc.) of the associated dwellings. Some of these images are tagged (cabinet, chair, shelf, lamp, table, etc.).
:: T-SHIRT SUPPORTING SCIENCE! ::
Support us by purchasing a poster at:
The entire data supply chain
iRobot, which was acquired by Amazon for $1.7 billion, confirmed that these images were taken by Roomba vacuum cleaners in 2020. They were transmitted by annotating workers who received instructions on anything they thought was sensitive in whatever space the robot was working in. including children," the company adds.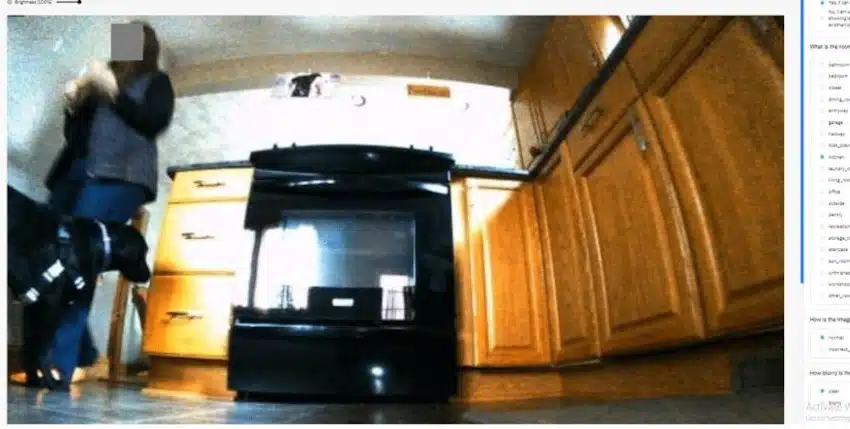 According to the company, all of the images were of development-stage models whose technical and software improvements never made it into purchasable robots. Affected devices have been slapped with a bright green sticker that reads "video recording in progress". In other words, the manufacturer claims that the people appearing in the photos and videos ("data collectors", paid for their contributions) must have accepted that the Roomba robot was monitoring them.
James Baussmann, a spokesman for iRobot, said in an email that the company "takes all reasonable steps to ensure that personal information is handled securely and in accordance with applicable laws" and that the screenshots obtained by MIT Technology Review were "disruptive." Written disclosure agreement between iRobot and image annotation service provider."
However, MIT Technology Review notes that iRobot refused to let them see the data collectors' consent agreements and did not want to connect them to the employees the reporters wanted to speak with to understand the terms. According to the magazine, iRobot has since terminated its relationship with the service provider that leaked the images and has taken steps to prevent similar data leaks in the future.
The images "demonstrate the widespread and growing practice of sharing potentially sensitive data for training algorithms" and "reveal the entire data supply chain and new points at which personal data can be leaked — few of which consumers are aware of," says MIT magazine.
As Justin Brookman, director of technology policy at Consumer Reports and former director of the Federal Trade Commission's Office of Technology Research and Investigations, points out, the data collectors certainly didn't imagine that real people would review the photos for comment. According to iRobot, the consent form indicated that "service providers" would do this.
Collect as much information as possible to model a complex environment
When an object uses artificial intelligence, its development requires a lot of data. Machine learning, on which this intelligence is trained, requires as much data as possible to train the algorithm to recognize patterns. And the closer this information is to reality, the better the artificial intelligence will be trained. Data from real environments – like here, inside homes – is therefore very valuable. And often, we consent to having our data collected and analyzed from our connected devices – more or less informed.
Robotic vacuum cleaners today are equipped with powerful sensors. In particular, Roomba J7 series robots are equipped with advanced cameras and artificial intelligence that ensure optimal navigation and cleaning. We are now a long way from the first model of a robot vacuum cleaner – the Electrolux Trilobite, launched in 2001, which only combined ultrasonic sensors, shock sensors and cliff sensors.
High-end devices are also equipped with computer vision. Back in 2015, Roomba was able to map 980 homes, adapt its cleaning strategy to the size of the room, and identify key obstacles to avoid. But for this vision to work best, manufacturers need to train it on high-quality and diverse databases. However, the domestic environment is particularly complex; the interior of each house is very different, nothing is standardized, moreover from one country to another.
That's why iRobot, like other manufacturers, needs as many pictures and videos from inside homes as possible. Along with volunteers recruited by iRobot employees themselves and third-party data providers, the company has also begun offering consumers the ability to submit exercise data through its app, which allows it to send specific obstacles to the company's servers to improve performance. algorithms. A company representative told MIT Technology Review that these images have not yet been used to train algorithms.
Devices and apps are collecting more and more personal data. And the companies that sell these products write their privacy policies in sometimes vague and vague terms. " Just because a company says they'll never sell your data doesn't mean they won't use it or share it with others for analysis. MIT Technology Review notes. All 12 robot vacuum manufacturers reviewed in this survey allow the data to be used to "improve products and services" — a formulation that ultimately leaves much to be desired.
Source: MIT Technology Review