Meta Quest: no, it didn't improve the performance of Meta Quest
We have been witnessing a boom in news sites and channels for several days now Youtube the following announcement: Meta It would have boosted and boosted Meta Quest 2's performance GPUs 490 MHz to 525 MHz. In fact, this is not the case, and we will tell you why.
It all started with this official blog post, which you can find here, followed by an account Twitter Account Oculus Developers there is he tweeted :
Today, we're happy to announce that Meta Quest 2 devices have more GPU computing power to work with – 7% to be exact. All developers can start taking advantage of the new 525 MHz GPU frequency (up from 490 MHz) for better application performance. More info ➡️ https://t.co/0OEwcOLk6N pic.twitter.com/TeeXMw8Leu

—Oculus Developers (@Oculus_Dev) December 21, 2022
It didn't take long to send the crowd into a frenzy the misunderstanding of some reveals the truth of others. So we can read almost anywhere on forums, news sites or channels Youtube that Meta Quest 2 it will be even more powerful in the next update V49. Unfortunately, the damage has been done and many users are waiting to be wowed by the new graphics offered by the virtual reality device.
However, this is absolutely nothing. Meta he never announced that he was increasing his power Meta Quest 2but only the fact that developers now have more room to develop their games/programs using a slightly higher frequency than before.
Time for some theory. It is possible to change the performance Meta Quest, Oculus Go or helmets PICO Neo 3 Link and PICO 4 plays on performance level GPUs (Graphics processing unit = graphics card). the GPUs mainly graphic effects, textures, etc. deals with the calculation. in video games.
There are 6 performance levels, corresponding to more or less high operating frequencies. The higher the frequency, the bigger it is GPUs can process data and therefore more images or visual effects, provide better resolution of textures, etc. Here are the levels in question for the chip Snapdragon XR2 supply Meta Quest 2 and PICO 4 :
0 = 305 MHz (power saving);

1 = 400 MHz (Low);

2 = 441 MHz (Medium);

3 = 490 MHz (High);

4 = 525 MHz (Very High);

5 = 587 MHz (unlocked).
Until now, developers were limited in their development to level 3, that is, 490 MHz. So, Meta They made sure that games and applications do not excessively affect the consumption of the battery or the heating of the headphones. Today with direct competition PICO 4 and increased batteries to make our gaming sessions last longer, Meta finally woke up and announced that it was releasing the ballast so that developers could offer games that were a little more visually perfect or more stable.. It's about time, because we regret the poor fluidity of many games released recently Moss: Book I, BONELAB, nock, Ultimech, Medal of Honor: Above and Beyond or the latest Marvel's Iron Man VR. These games struggle to maintain a consistent frame rate, resulting in lots of frame drops and a less than perfectly smooth experience.
So this little boost is nice for us gamers, just as long as the developers update their games. to take advantage of this slight performance gain. Here we are talking about 7%, which after all is not that much. Don't expect much changeand again all developers should play the game.
You can activate these performance levels, for example, through software Side Quest on your computer: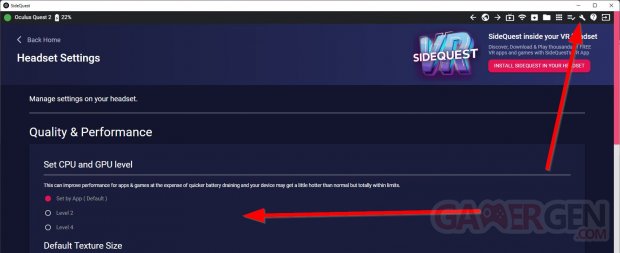 Or using Quest Games Optimizer directly from the headphones, without a computer, the latter offers finer tuning and performance levels Side Quest :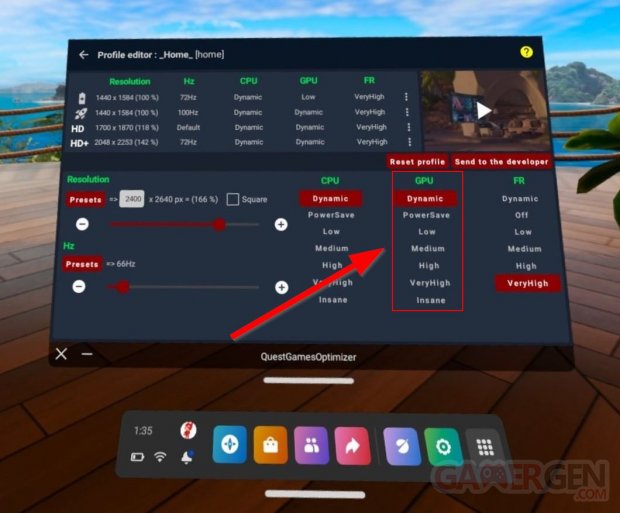 So this is nothing more than an improvement on Meta Quest 2, but there is a little more scope for developers and the nuance is there. Level 4 (525 MHz) is automatically activated by the headset in certain usage situations if a performance requirement is sensed. The specified performance levels are always available and you can use them by passing the command etc following: "adb shell setprop debug.oculus.gpuLevel TO THE LEVEL OF YOUR CHOICE". Side Quest and Quest Games Optimizer use this command to change its capabilities GPUs. Note also that this is not aoverclocking your helmetas these are reference data and are available to all. Overclock To set the frequency to levels higher than the specified reference levels would mean bypassing the system or obtaining additional rights and therefore would be against what the manufacturer allows.
by increasing their capabilities GPUsyour headphones will use a little more battery and get a little hotter. However, don't worry, if you have a battery, the problem no longer occurs and the heat remains moderate in all cases. The helmet can withstand 50°C just like a smartphone. On average, the temperature during in-game use is a Quest It is between 35 and 45 °C.
This last question remains. Why Meta just announce it now? We could have had more work experience before… And for this reason Quest Games Optimizer It was born to overcome this deficiency and optimize the visual appearance and performance of games and applications when playing at more than simple settings. GPUs. To those who are interested HQ died, no answer: HQ 7% extra performance goes well beyond that and in many cases it exceeds 50% and has been using 525 MHz and 587 MHz for a long time.