Between War Photography, Testimony and Creation — Blind Magazine
"Due to the extreme sensitivity of the topic, it is difficult to bring all parties together in one hall today. The work presented here does not reflect all views. » These two sentences displayed at the entrance of the exhibition "#Ukraine, Images of War" preemptively answer the accusations of bias.
In reality, it may not only be a matter of territory. Even by multiplying the number of showrooms, it was impossible to represent the situation in Ukraine, because it is complicated, but above all because it is rewritten every day.
Nathalie Herschdorfer, who arrived a few months ago at the behest of Photo Élysée, quickly expressed her desire to support the news while measuring the difficulty and therefore the interest of the exercise. During the round table organized as part of this exhibition, he reminded that Photo Elise museum should not treat news like a press agency.
And quite rightly, the exhibition chooses to show how press or war photography has led to a redefinition of itself in the face of new photographic approaches and new narrative modes.
Artists were caught up in the news
Thus, we discover the work of the Ukrainian Igor Chechachkov, which began more than ten years ago and focuses on the interaction between people sharing the same space and the organization of their daily life. Forced to leave his home and then the city of Kharkov, his interest naturally turned to a different sociology, the one that the exiles invented in their foster homes and temporary residences.
In the medieval city of Lviv, a group of volunteers came together to preserve the city's historical heritage, so that these objects that carry a part of Ukrainian culture and identity should be spared. Seen by photographer Elena Subach, these sculptures and icons, these operations to save, pack and take shelter, are reminiscent of caring for the wounded or victims of bombings with their graceful and ironic gestures.
Rafal Milach still painted underground cavities, basements of administrative buildings or car parks in Lviv that have been turned into bomb shelters. There are no automatic weapons, no dismembered bodies, no burning houses in his pictures, as in the pictures of Subach or Chekachkov. However, the severity of the war is upon us.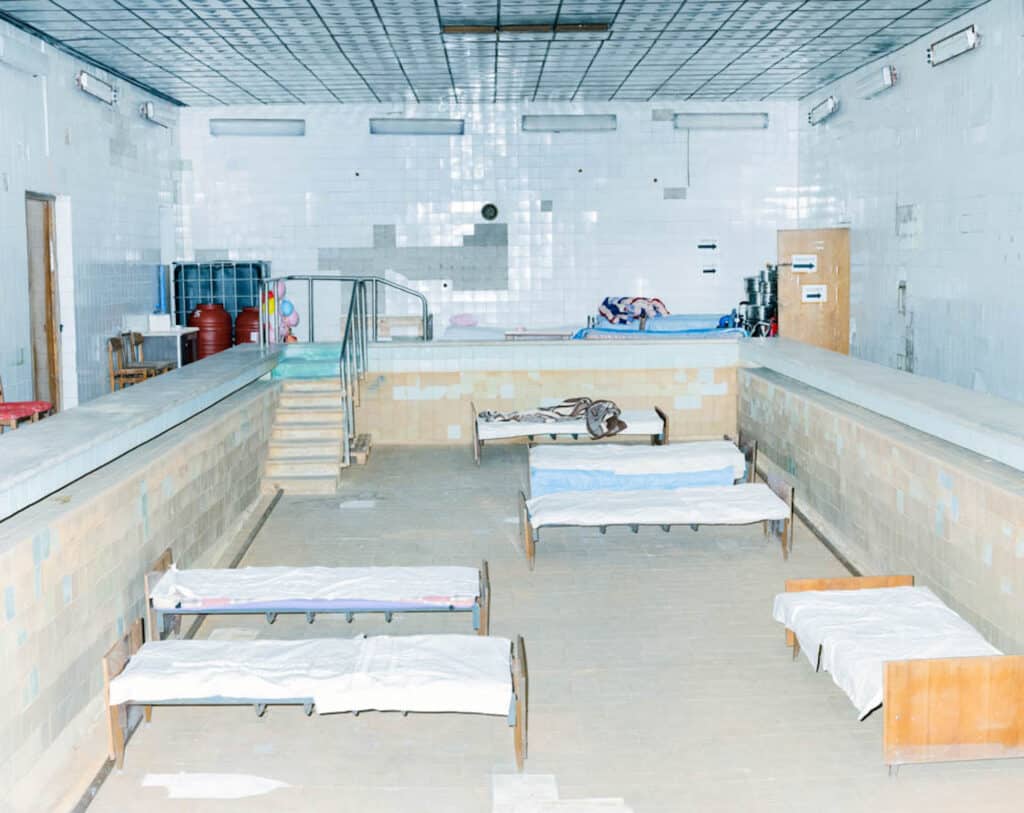 An artistic approach to documentary film
The French Emerick Lhuisset studies artistic transcriptions of geopolitical subjects, defines himself as a visual artist. He participated in this exhibition through a series of portraits of Ukrainian citizens. The subjects are shot from behind, and next to each picture is read each person's answer to two questions about the war: What do you think will happen? What do you want to be?
Another participant of this collective exhibition, Eric Bouvet, is a photographer who has been going to the front areas from Grozny to Benghazi, from Maidan to Kabul for 40 years. Tired of what he saw in Ukraine, he creates a series of "sonoramas", small films, in which he writes comments that tell his own story and mix them up day by day based on images taken a few hours ago. , his emotions, his anger.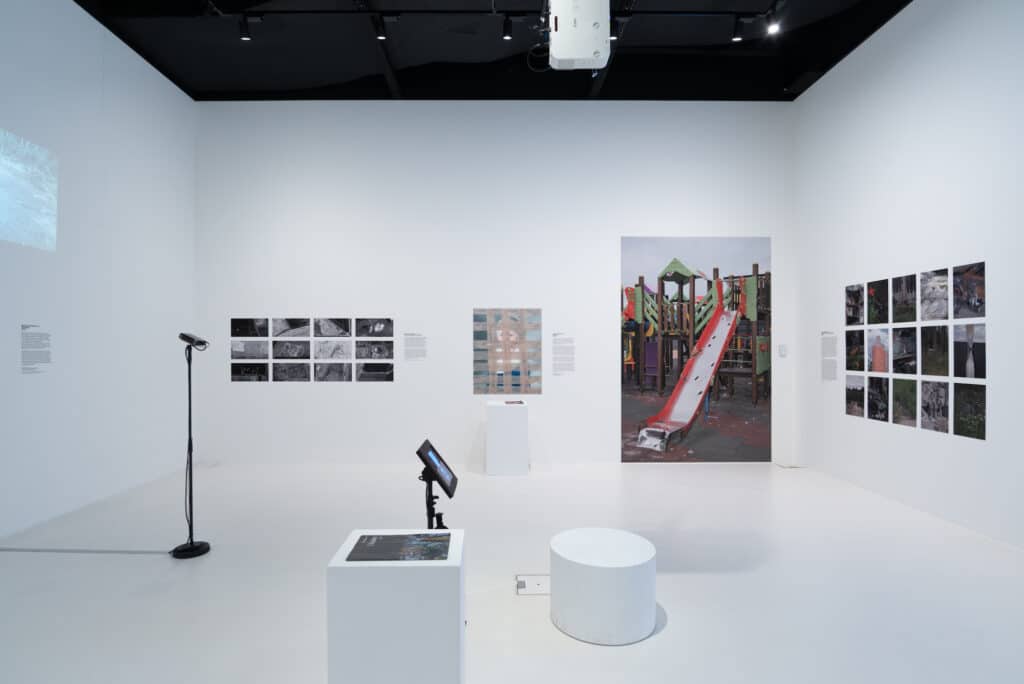 In doing so, he rejects the principle of photojournalism, which, in order to remain unbiased, must exhibit long periods of time without comment. "Eric Bouvet went to Ukraine without a mandate from a newspaper, he had to pay his own money, which calls into question the difficulties of doing this profession. He lets us hear his voice, and that's more important than a photographer. And then he speaks in the first person, whereas in his traditional form his job is to try to sum up the complexity of war in one image.Nathalie Herschdorfer emphasizes.
The press asks questions
This traditional approach to photojournalism still plays its role, especially thanks to its tested and immediately understandable language: the same wall still displays twenty front pages showing the daily press, added to the classic images of war, explosions, bridges. flames and a portrait of a warrior. No time for metaphors here.
This portrait of the Ukrainian president's wife is getting more attention than a Swiss daily Time chose last June for its front page. A curtain of white curtains around him and a pile of white sandbags make him the hero of a Greek tragedy in a marble palace.
Another example of staging is when American Vogue commissioned Annie Leibovitz for a series of portraits inspired by the codes of fashion and luxury of the Ukrainian presidential couple.
For the director of Photo Élysée, "These images co-exist and collide, we perceive them as scattered. We never know what to expect every time we open our phone."
This exhibition depicts all these contradictions born from chaotic situation and time. The relative smallness of the room does not allow us time to answer every question, emphasizing the sense of confusion between different propositions and different grammars. Information and spectacle, caution and emotion, mingle in a confusion that is as disturbing as it opens up immediate and long-term perspectives.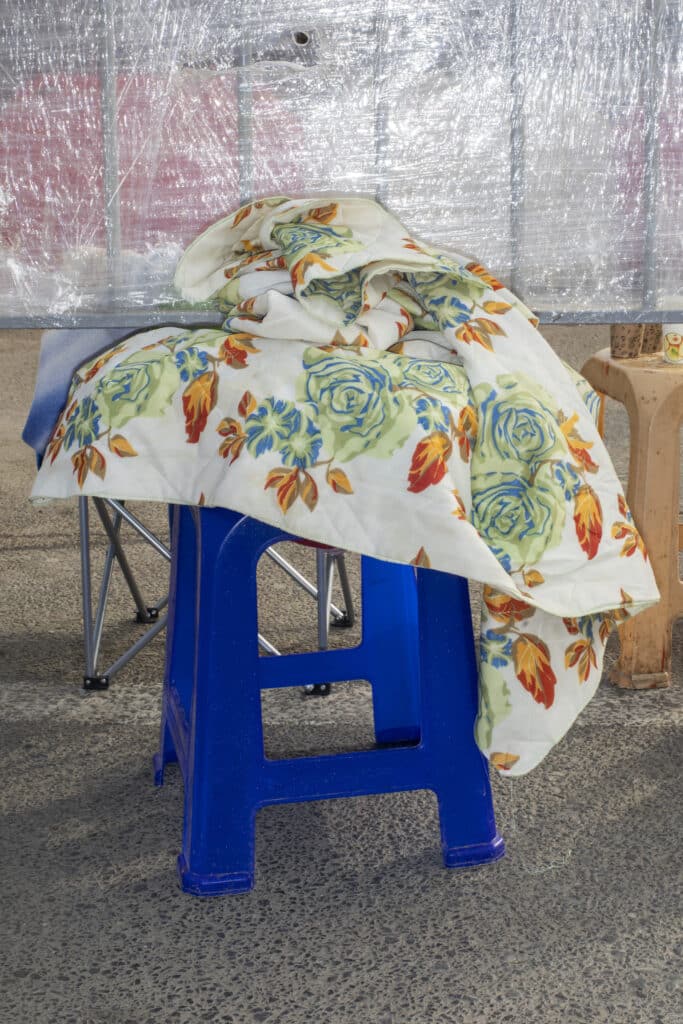 "#Ukraine, Images of War". Photo Elysee (Lausanne, Switzerland). Until January 29, 2023.