Theatre: Recipes for success at the Comédie-Odéon
It appears at the Comédie-Odéon until early next year, Goodbye Mr. Haffmann and Fake English are two completely different works, the first is dramatic and the second is comic. But they have something in common because of their earlier successes in Parisian theaters. And to repeat, it was then installed at the Comédie-Odéon, directed by Julien Poncet, with actors and actresses from Lyon.
Exactly in 1942 in Paris Goodbye Mr. Haffmann. Raids are increasing, Jews are being hunted everywhere for deportation.
On stage, the radio reminds us of the horror of anti-Semitism at the time. A dangerous situation forces jeweler Joseph Huffman (Philippe Awat) to offer his employee Pierre Vigneau (Johan Genin) a strange deal. He offers him to come and live with his wife in his shop; and even keeping an eye on him while he waits for better days, hidden in the basement. Vigneau accepts. But in return, he makes an equally unexpected offer: he wants his ex-boss to impregnate his wife, who is sterile. Having sex with his wife, going to a tap dance class once a week…
The work is based on this incredible argument. Which, of course, is full of surprises. Which we do not disclose. Let's say that jealousy and other feelings are mixed.
Under these conditions, having a child is more difficult than expected. Especially since Vigneau began to get close to Otto Abetz, the ambassador of Nazi Germany. So much so that he invites himself to eat with his wife! Taking over Jean-Philippe Daguerre's game with all the necessary intensity, the Lyon squad takes the gloves in the most beautiful way.
Fake English and real laughs!
fake english, Adapted into French by Gwen Aduh and Miren Pradier, the play by Jonathan Sayer, Henry Lewis and Henry Shields becomes a veritable little burlesque masterpiece worthy of Monty Python. We laugh out of breath.
The members of an obscure society dedicated to thrillers come together to present a play they have found in who knows where; but they do not hesitate to attribute it to Conan Doyle.
Moreover, they are so convinced of its exceptional quality that they decide to release it to the public… Unfortunately, the "work" under the guise of a theatrical thriller is an unvarying dud. All of them, without exception, are as bad actors as Stefan Bern in the crime series L'Art du.
And as if that wasn't enough, the decor threatens to collapse (a threat that will come true) and unexpected disasters are constantly disrupting the evening.
We are witnessing the sinking of the ship. While holding his ribs. It must be said that real fake actors do not spare their efforts. As Jean-Rémi Chaize, Marc Gelas's irresistible partner, the fake Sherlock Holmes, is impeccably funny.
But we must mention the whole troop, especially its female part: Karine Martin-Prével and Ségolène Stock, who fought fiercely for the only female character. Not forgetting the furious staging by Gwen Aduh and the challenging screenplay by Michel Mugnier.
---
Goodbye Mr. Huffmann – until January 14, 2023 and Fake English – At the Comédie-Odéon until January 14, 2023
---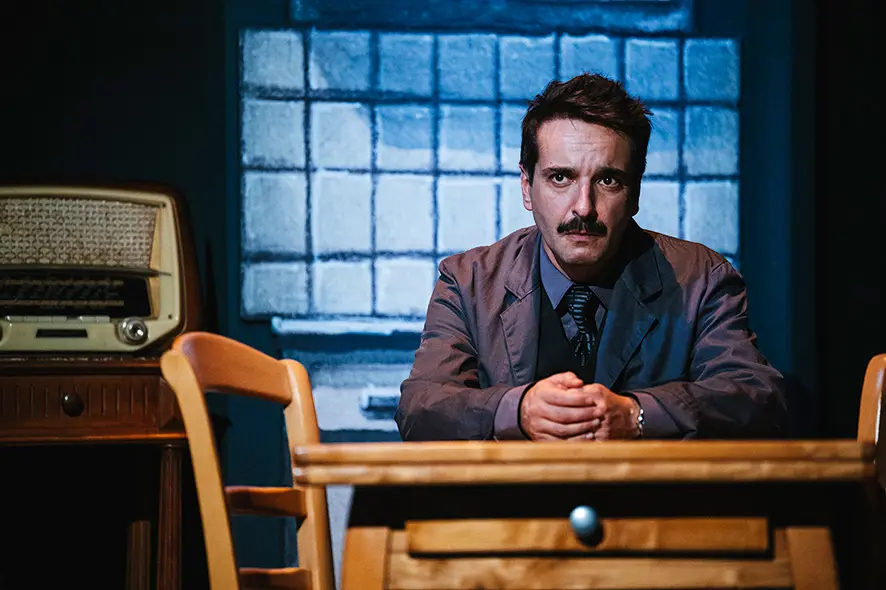 Interview with Johan Genin
Johan Genin is one of the actors who can be found in most of the popular shows at the Comédie-Odéon. He acted in two plays by Alexis Michalik, Le Porteur d'histoire and Intra Muros. And he is currently in Adieu Monsieur Huffman.
Lyon Capitale: You occupy one of the main roles Goodbye Mr. Haffmann.
Johan Genin: Yes, it's my first time on this registry, more dramatic. I had an entry point with my character in Intra Muros, but there were comedic aspects that convinced me. Goodbye, Mr. Haffmann, that's a big leap forward. I understood the power of the role from the exercises. Especially the complexity of my character. Which reflects the complexity of the historical period in which the work was created, that is, the Occupation. We tend to simplify by putting collaborators on one side and resistors on the other, which was far from simple.
You are almost a historical actor of the Comédie-Odéon, we find you in the distribution of the greatest successes of the place…
I don't know if we can say "historical", but yes, I've been there since the beginning. I was there even before Julien Poncet took over [Julien Poncet a repris l'Odéon fin 2015, NdlR]. I played cafe-theater performances there. And boulevard comedies like "Enter without knocking". Julien kept the comic trend, but was more demanding.
And then combining the more dramatic pieces. …There are also 100% Lyon creations like Et children will be well taken care of!, The price of the rise Where Memories are memories I played with Romy Chenelat this summer. And of course the very successful Paris plays were re-edited with Lyon distributions.
How does this actually happen?
There is always a cast. And even a kind of pre-casting, because there is a selection based on many submitted files. Then the Parisian director comes and they do the castings together with Julien Poncet. Decisions are made by the Parisian directors, who are always in dialogue with Julien Poncet. This was the case, for example, for two plays by Alexis Michalik (A storyteller and Intramurals), he came to Lyon for castings and some rehearsals.
Are rehearsals still held at the Odeon?
Well, we're lucky to have a nice basement here that mirrors the dimensions of the stage above. It can be rock'n'roll! We have repeated it recently Fake English and Goodbye Mr. Haffmann and in the evening we played Le Fil à la pancha Feydeau!
In fact, you form a friendship group of sorts…
In the end, we know each other well. But there are always new actors and new actresses to integrate in the beginning. The series is long, you have to get along well and at the same time tell each other everything. In any case, the catalog of success at Odeon continues to grow. Parisian authors and directors know that there are actors and actresses in Lyon who are capable of staging their plays.
---